Shipping to Belgium

Work days : Monday through Friday
Bank Holidays : 1 janvier, Lundi de Pâques, 1 mai, Jeudi de l'Ascension, Lundi de Pentecôte, 21 juillet, 15 août, 1 et 11 novembre, 25 décembre.
Time zone : GMT +0:00 – GMT +3:00
Capital : Brussels
Main Cities : Antwerp, Ghent, Charleroi, Liège and Brussels.
Country Code : ISO 3166-2:BE
VAT : 21%
Currency : Euro (EUR)
Main Languages : French, flemish
Primary carrier service postal : Bpost
Don't forget that for the calculation of your delivery delays, bank holidays are not considered work days.
Send a parcel from Belgium with My Flying Box
Returning, importing or sending your parcels from Germany has never been so easier. MyFlyingBox
From your customer area you will be able to buy the services of the carriers to send your parcels from Germany to Germany, to Europe or internationally with UPS, DPD, DHL or Fedex.
Enter the characteristics of your shipment from your customer area with the weight and dimensions of your parcels with the recipient's addresses

Compare all our rates and shipping times from Germany in one click

Finally, filter the search results according to your important needs (post office drop-off or carrier pick-up, quality/price/transit time,...)
Example #1: National shipping, send a parcel from Belgium to Belgium
Send a 1kg parcel from Bruxelles to Bruges
The less expensive carrier is Bpost with Bpack Pro – Post office drop off – at 4,67€ HT, with a 24/48 hour delivery.
Example #2: International shipping, send a parcel from Belgium to Worldwide
Send a 3 kg parcel from Bruxelles to New York
The less expensive carrier is Bpost

with Bpack World Business at

19,64€ HT.
National Rates from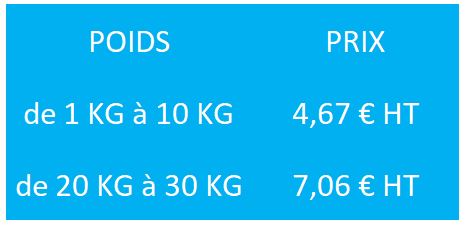 OUR ADVICE FOR YOUR SHIPPING from Belgium
Make sure your shipment is well packaged and depending on the value of your product, consult our additional goods insurance conditions which will allow you to insure your packages up to $100,000.

For all intra-community shipments from France, no customs formalities are required - Be care to regulated products: e.g. wine.

For all international shipments, please ensure that you complete and issue at least 3 copies of an invoice.
Regarding the packaging of your shipments, please see our article on Optimize the customer experience through packaging and for your shipment to United Kingdomhave a look on our referral about Brexit. 
Need to send a parcel from another country ?
Postal Services from Belguim
The Express

services

from Belgium
The Postal services 

to 

Belgium
Customs formalities to Belgium
Start your parcel shipping today. Signing up is easy, free and immediately available!
As we wish to always provide you with the most accurate information, please feel free to inform us of any mistakes you might encounter.
General Terms and Conditions