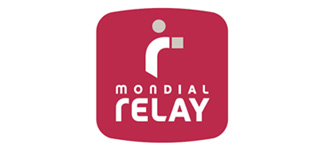 Available services
Mondial Relay Point Relais

Mondial Relay International Home Delivery

Mondial Relay International Point Relais
Send a parcel with Mondial Relay
To send parcels with Mondial Relay as a professional and whatever your sector of activity, we take care of all your parcels. Founded in 1997, Mondial Relay is one of the leaders in the distribution of e-commerce parcels in France and in Europe. 
Creation date : 1997
Slogan Choisissez la liberté
Head office: Hem; France
Specializing in delivery to individuals in Relay points, it specializes in the delivery of packages weighing up to a maximum of 30 kg. Customers can thus collect their packages in Points Relais®, Locker, Drive and Home.
Thanks to very strong demand, in 2018 Mondial Relay launched the delivery of parcels weighing up to 150 kg that customers can pick up at "Drive" collection points.
In recent years, Mondial Relay has extended its network to Europe, and now covers many countries in Europe.
The characteristics of your parcel packaging
The maximum weight accepted per package is 30kg
The maximum dimensions (length + width + height) must not exceed 150 cm.
The largest of the sides should not exceed 120 cm.
The minimum size: 15cm long
The bubble wrap is authorized for non-fragile products
The resistant plastic bag is authorized for textile products.
Tubes or cylindrical packages are strongly discouraged.
Some examples of prices for your parcel shipments to France
A shipment of 1 kg in mainland France: € 4.24 excl.
A shipment of 5 kg in mainland France: 6.42 excl.
A shipment of 15 kg in mainland France: € 12.23 excl.
Send a package with Mondial Relay in Europe
In Europe Mondial Relay has 2 solutions:
Delivery to Points Relais® in Belgium, Spain, Portugal, Luxembourg and the Netherlands.
Home delivery in Germany, Austria, Belgium, Spain, Italy, Luxembourg, the Netherlands and Portugal.
By using the MyFlyingBox platform, you have access to advantageous shipping rates for MONDIAL RELAY services but also for Colissimo, Chronopost, UPS or DHL, and thus offer you the best choice.
How is the price of transport calculated?
Depending on the weight of the package
From destination country
From the selected service, relay or home
The best way to find out how much it will cost to send a package via Mondial Relay is to create your account on MyFlyingBox and make an expedition.
Some examples of prices for your parcel shipments to the European Union
Paris - Bruges 1 kg delivery in relay: € 4.24 excl.
Bordeaux - Bruges 5 kg home delivery: € 9.77 excl.
Cannes– Berlin 10 kg home delivery: € 12.58 excl.
Bordeaux - Brussels 5 home delivery: € 9.77 excl.
Nice– Barcelona 15 kg delivery in relay: 17.88 € HT
Lyon– Vienne 30 kg delivery in relay: € 29.66 excl.
Where can I drop off my package?
From the MyFlyingBox interface, you have access to Mondial Relay to find the drop-off points closest to your company and consult the opening hours! You drop off your parcel at the relay point you have chosen and then My FlyingBox takes care of the management of your consignment.
From 3 to 5 days for your shipments in France
From 3 to 6 days for shipments in Europe
The most popular destinations for this service are Belgium, Germany and the Netherlands. Parcel tracking is very important in e-commerce. From the My Flying Box platform, you can track your package at any time using your tracking number.
The strengths of Mondial Relay in France on the MyFlyingBox platform: 
Accurate and real-time information
6,300 drop-off and collection points
An interactive map with drop-off and collection points
Packages to be collected within 14 days
A parcel tracking interface and SMS notification
Possibility of taking optional insurance per package up to 100,000 €
If you want to ship a package to France or to a Mondial Relay border country. is an eco-responsible delivery service when your package weighs less than 30 kg.
How to protect your package against loss or damage?
With MyFlyingBox, your package benefits from a standard guarantee of a maximum of € 50 in the event of theft, loss or damage. If you take out MyFlyingBox insurance, we guarantee a refund of up to € 100,000 per package as a professional sender.
In the event of theft, loss or damage, compensation will be calculated based on the actual value of your shipment.
Complaints procedure for uninsured shipment
Open a ticket in the incident manager on your online account.
A confirmation of the incident with the carrier will be made by our services and upon receipt of the confirmation of the loss by the carrier, we can validate your MFB warranty.
To validate this guarantee, it will be necessary to provide the purchase and / or sales invoice including the description of your merchandise. We will also reimburse transport costs.
Breakage or damage to your content is not covered by the MyFlyingBox warranty.
Complaints procedure for insured shipment
A complaint for these insured shipments can be submitted through our incident manager, by selecting the relevant package number.
We kindly ask you to download from the incident manager the documents required by the insurance: invoice for your merchandise, photo for packages with a value greater than € 4,000, and proof of deposit for packages left at the post office . Once completed and validated, your file will be sent to insurance and reimbursement will reach you within 15 days to 4 weeks.
Do not hesitate to consult our article on insurance Secursus.
Please note: In the event of loss abroad, we will open an investigation if your package does not change status after:
- At least 5 working days for shipments to a country to a border country
- At least 10 working days for shipments to UK and all other countries in the world
The limit of our insurance? € 100,000 per shipment (except for the shipment of wine packages, the insurance of which is capped at € 4,100 per box).
All carriers, including Mondial Relay, have general conditions of carriage. If you deviate from these conditions, surcharges may be charged on your invoice thereafter. When you send with Mondial Relay, you automatically accept the Mondial Relay T & Cs.
Access our contract partners starting more than 30 countries across the world.
As we wish to always provide you with the most accurate information, please feel free to inform us of any mistakes you might encounter.
General Terms and Conditions